Specialty:
Public/Community Health/ Epidemiology
Designatory Letters:
MB Edin 1934,MRCP Edin 1936, MD Edin 1942, FRCP edin 1963, MFPHM (MFCM) 1972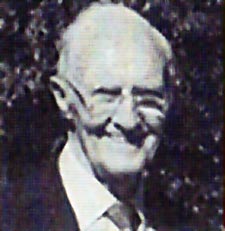 (Contributed by his son, Andrew K Henderson)
Dr William (Bill) Henderson has died from complications following a fall at the age of 95 years.
Bill and his younger sister Jean were brought up single-handedly by their mother in Edinburgh, their father having been killed in the Great War in 1917. Bill was educated at Parson's Green primary school before entering George Heriots school as a 'foundatloner'. He had a successful school career with notable academic achievement alongside a place in the rugby first XV and a developing life long passion for the game of golf, He was lucky to survive a burst appendix, complicated by peritonitis in the pre-antibiotic era during that time.
Bill started medical training at Edinburgh University in 1929, graduating in 1935 with commendation, House jobs and a surgical research post in Bradford then followed, before marrlage to Thora, when the lure of a secure salary and the challenge of General Practice took him to the Bridge Street practice in Hawick in 1937. There he developed a keen interest in GP obstetric practice, and unusually for that time, a keen interest in further education and academic research culminating in MRCP (Edin) and an M.D. from his Alma Mater for research into hypertension in pregnancy. Throughout WW2 he continued to work in Hawick, but moved to the Scottish Home and Health Department, initially in Glasgow, in 1947. While at the SHHD his skills as an organiser and innovator were recognised and he progressed to Senior and subsequently Principal Medical Officer, by then working from St Andrew's House in f dinburgh. His responsibility when in Edinburgh was mainly for General Practice. With his knowledge, guidance and encouragement, especially after a period of research into the health services of other European countries, he was a key architect of many of the changes in general practice during the 60's and 70's, These changes saw the development of structured training and proper recognition for the specialty of general practice as well as improvements in working practices and amenities, During this time he was elected a Fellow of both the Royal College of Physicians of Edinburgh and the Royal College of General Practitioners, He also became a Fellow of the Faculty of Community Medicine. He never lost his enthusiasm for clinical work and in his early retirement he returned to some more limited clinical practice.
Bill was a quiet and modest man, who was devoted to his family, His greatest sadnesses were the death of his eldest chlld, Ollve, at the age of 20 from Hodgkln's dlsease, and the death of his wife of 44 years, in 1982 from cancer. He continued to take a lively interest in his family of two sons, their wives, seven grandchildren and in recent years eight great-grandchildren.
Golf was a life-long passlon. He was a member of several different golf clubs, hls favourlte being Gullane, and he had a low single figure handicap for many years. He continued playing into his 90's until failing health prevented him. His one regret was that desplte ,. . many . . achievements on the golf course he never shot a hole In one!
His long life was underpinned by a secure and deep Christian faith which he shared with many including his family. He was an ordalned elder of the Church of Scotland for 61 years. He had a particular love of and knowledge of church music.
He is survived by his two sons Andrew and John, their wives, his grandchildren and great-grandchildren. Several of his family have followed him into the medical profession.