Designatory Letters:
BSc Ist Class Hons (Pathology), MBChB 1972, MRCPath 1982, FRCPath 1993,MRCP 1996, FRCP Edin 1997,FRCPLond, FRCPGlas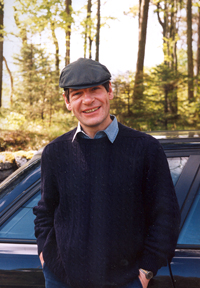 Former consultant haematologist Nevill Hall Hospital, Abergavenny and North of Scotland Blood Transfusion Service, Raigmore Hospital, Inverness
(Contributed by his wife, Ingrid)
Tom undertook the first year of a BSc course at Queen's College, St Andrews University, before joining the second year of Edinburgh Medical School in 1966. Tom's undergraduate career was distinguished, obtaining a Ist Class Honours degree in Pathology, before qualifying in 1972.
After professorial house-jobs, Tom joined the scientific staff of the Medical Research Council in Edinburgh. Here, his innate talent for research and original thought flourished. Tom equally excelled at clinical medicine - initially Radiation Oncology, then Haematology in Edinburgh, Bristol and Bath before attaining his appointment as Consultant Haematologist at Nevill Hall Hospital, Abergavenny in 1983.
As a single-handed consultant Tom established and developed a fully integrated clinical and laboratory service, where previously none had existed; it was widely respected. Brilliant, exacting and compassionate - Tom used his considerable intellectual gifts, flair for both clinical medicine and research, love of his subject and respect for the individual to provide exemplary patient care and laboratory services locally.
This rigour and ethos he equally applied to his second consultant post with the Scottish National Blood Transfusion Service, following his desired return to his beloved Scotland in 1996. Here, he transformed the department, now acknowledged as a centre of excellence in transfusion practice.
Tom was modest, good-natured, robust, funny, unpredictable, kind, honest and good - esteemed by patients and colleagues alike.
Tom was pre-deceased by his first wife Madeleine. He leaves his second wife Ingrid and baby daughter Blythe.
Ingrid Ferguson
25th February 2007