Designatory Letters:
MB Edin 1943, MRCP Edin 1976, FRC Path 1974, FRCP Edin 1979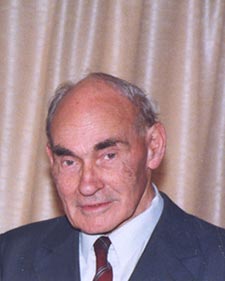 (Contributed by his son and daughters)
The son of a farmer, Tommy spent his early years in East Lothian. He was educated at the local primary school and the Royal High School in Edinburgh, before entering the University of Edinburgh Medical School in 1938.
On qualifying in 1943, after a short spell at the Astley Ainslie Hospital, he joined the Royal Army Medical Corps, where he served primarily with the Scottish Horse regiment in Northern Europe until 1947. When he was demobilised he took up a post at Leith Hospital then in 1948, the same year he married his wife Ann, he joined the staff of the Bacteriology Laboratory at the Royal Infirmary of Edinburgh.
In 1963 he was appointed Senior Lecturer and Honorary Consultant in Bacteriology at the University of Edinburgh, and continued in this role until he retired in 1984.
His work centred on Clinical Bacteriology Services. He had a particular interest in aids to diagnosis, including the contribution of microscopy, and in improving co-operation between clinicians and laboratory workers. Based primarily in the Royal Infirmary of Edinburgh, his focus on patient care included visiting the wards on a daily basis. He also had a teaching commitment, mainly to nurses, but also to medical students and postgraduates.
Tommy always retained an interest in farming, and was a keen cyclist in his youth. He will be remembered as a modest man with a good sense of humour, who put others before himself. Tommy's wife, Ann, died in January 2007. He is survived by his two daughters, a son and three grandsons.