Designatory Letters:
MB St And 1950, MRCP Edin 1956, FRCP Edin 1973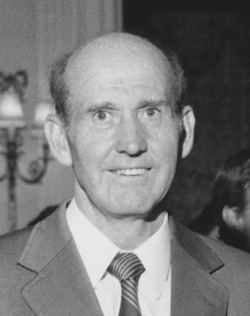 [Contributed by Kate Duncan]
Stewart was brought up in Broughty Ferry, Dundee, and educated at Grove Academy. He was a promising sportsman at school, and was offered a trial with Dundee FC. On leaving school he enlisted in the Royal Air Force and served with Coastal Command. His plane crashed in the Lake District in 1944 and he sustained severe fractures to both legs and lost four fingers from his right hand. His injuries meant the end of his career in the RAF so he elected to study medicine. He graduated from St Andrew's University in 1950 and did house jobs in Dundee and in Truro. Through the influence of Professor Ian Hill in Dundee he developed an interest in cardiology, and became a Senior Registrar in Aberdeen.
He then decided to leave clinical practice and worked for ICI as a member of the team led by Sir James Black who developed Propranolol. Stewart travelled extensively during this period and was responsible for setting up the first international clinical trials of this drug. He returned to clinical medicine as a consultant geriatrician in the Scottish Borders in 1969. He was the first person to hold this appointment and set up the geriatric service from scratch. He involved colleagues from social services and general practice in planning this service, an approach which was new at that time. Stewart retired in 1986 and moved to East Lothian.
He enjoyed jazz and watching all sports. He played golf at Luffness. He was a member of the RCPE golf club and captained the side in 1993. He also had a great love of wine and gardening. He was very keen to pass on his knowledge to his children and to his grandchildren whom he loved dearly. He was generous, loyal, loving and single-minded. This determination was particularly valuable in his later life, when, despite major abdominal surgery, cerebrovascular disease and the late effects of his wartime injuries, he managed to retain a great deal of his independence. As a husband, a father and a grandfather he is sorely missed, but his success in overcoming serious injuries is an inspiration to subsequent generations.
Selected bibliography
Crooks J, Stephen SA, Brass W. Clinical trial of inhaled ergotamine tartrate in migraine. Br.Med.J. 1964 Jan 25;1(5377):221-224.
Stephen SA. Day care for geriatric patients. Lancet 1969 Oct 11;2(7624):806.
Stephen SA. Cardiac failure with propranolol. Br.Med.J. 1968 May 18;2(5602):428.
Stephen SA. Unwanted effects of propranolol. Am.J.Cardiol. 1966 Sep;18(3):463-472.
Propranolol in Acute Myocardial infarction. A multicentre trial. Lancet 1966 Dec 31;1435