Specialty:
Respiratory/Thoracic Medicine
Designatory Letters:
MB Edin 1944, MRCP Edin 1951, MD Edin 1959, Fellowship 1962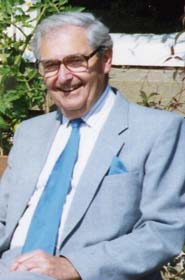 (Contributed by R A Wood)
Ronald McNeill was educated at Morrisons Academy, where he was Captain of Cricket. Entering Edinburgh University in 1939 he was one of a selected bright cohort who graduated in early 1944 after only four and a half years, and then did a House Post at Royal Infirmary of Edinburgh.
After active service with The RAMC in Italy and the Middle-East, reaching the Rank of Major, he resumed his training in Perth. After an enforced delay, whilst he overcame pulmonary tuberculosis, he was a Medical Registrar at RIE and Edenhall, passing MRCP(Ed) in 1951 with Respiratory Disease as his special subject. After a year at the London Chest Hospital his talents were recognised by Prof R.B.Hunter in Dundee, with whom he became a Senior Registrar in 1953. He had a year out on research with Julius Comroe in Pennsylvania from 1955-56 and there sharpened his growing scientific skills. After his MD (with commendation) in 1959, ' The Diffusing Capacity of the Lungs in Pneumoconiosis `, he was promoted as Consultant in Hunter`s Unit at Maryfield in Dundee in 1960.
Ronald McNeill was one of a group of eminent research contributors who thrived in the Clinical Investigation Unit at Maryfield. Choosing to pursue General Medicine in distinction to the then TB dominated Respiratory Disease he did however make a significant mark in Respiratory research, and set up modern respiratory function testing in Tayside. His most quoted original work included the description and investigation of exercise-induced asthma, & of the effects of B blocking drugs on airway resistance . Other contributions added to the understanding of the effects of cold air on ventilatory function, and of the risks of oxygen therapy in chronic lung disease. He was a major contributor to the integration of respiratory physiology into clinical practice.
By 1970, when Ronald McNeill decided to take up his final post as Physician at Perth Infirmary, he was already a greatly respected general physician, known for his sharp diagnostic acumen, and for his rigorous scientific approach. He was also a physician with real warmth to patients and colleagues, and one of the most liked and admired men in Scottish Medicine. He retired in 1987 and to the end of his career, and. indeed until his death, remained impressively up-to-date . It was entirely on merit that he was President of the Scottish Thoracic Society, President of the Scottish Society of Physicians in 1986, and Harveian President and Orator in 1989.
Outwith Medicine Ronald McNeill was a devoted family man, married for over 50 years to Margaret, and is survived by her, along with their two sons, and two daughters. He remained a keen sportsman throughout his life, latterly an active and very competent golfer, happily able to play until the month of his sudden death. He retained a youthful demeanour and, although he had a long life, his continued intellectual and physical vigour ensured that he never suffered from old age.