Specialty:
General Internal Medicine
Designatory Letters:
MB Edin 1950, MRCP Edin 1954, FRCP Edin 1994, FRCPC, MACP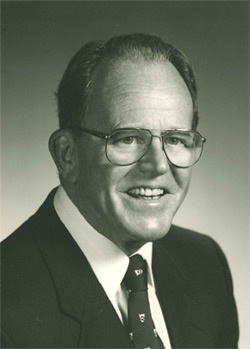 (Information contributed by his wife, Emil)
The obituary which appeared in his local Vancouver paper referred to his zest for life and seldom can this word have been more appropriate for anyone. He spent most of his working life in Canada having qualified in Scotland but he was born in what was then called Southern Rhodesia and it was there that he was educated and proved himself not only a brilliant sportsman but a natural leader. He was Head of his school and also captain of rugby, cricket, tennis and squash as well as enjoying hunting, fishing and golf.
Like many physicians and surgeons of bygone days he gained his first insights into medical practice when, like an apprentice, he assisted the doctor at the local mine hospital. When he reached 17 he volunteered for the army and saw service in Israel, Egypt and Greece before being sent to England, fully expecting to go to the far east but with the coming of peace he began his medical studies, first at St. Andrews, Scotland, then Edinburgh University, graduating in 1950.Three years later he married Emil, then became MRCP Edin. and on completion of junior training posts, moved to Canada in 1955, working first in Regina then in the following year settling in Vancouver, BC in its Lions Gate hospital where he was to make such an impact.
He became renowned both for his compassionate patient care and for his teaching and encouragement of young doctors, his willingness to sit on so many committees and advisory boards, and most notably for his planning for and creation of British Columbia's first coronary care unit.
After 36 years of devoted service he retired in 1993. The man who had gained a Blue for tennis at St Andrews and a Blue for hockey in Edinburgh continued to play golf and tennis and enjoy his garden until unable to do so because of his cancer. Survived by his wife, three children, five grandchildren and a host of nieces and nephews his life ended so fittingly, in the hospital he loved and served, cared for by its own palliative care service.