Specialty:
Respiratory/Thoracic Medicine
Designatory Letters:
MB Aberd 1943, MD Aberd 1953, MRCP Edin 1960, FRCP Edin 1964, FRCP Lond 1972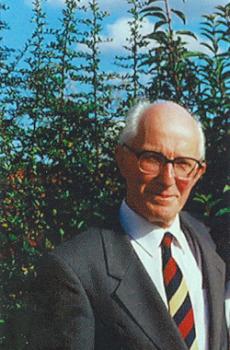 [Contributed by Dr J S Legge]
Robert Johnston was born in Bulawayo of missionary parents in 1921. He was schooled in Fraserburgh and Aberdeen, graduating MB in 1943. It was while serving with the RAMC in West Africa that his experiences with TB patients kindled his enthusiasm for a career in respiratory medicine.
Post-war he trained at the Bromptom Hospital, London and at Belllevue, NY where his research led to MD (Aberdeen 1953). After further respiratory experience at the Bromptom and Hammersmith hospitals he was appointed Consultant Respiratory Physician in Dundee in 1956.
As TB declined in prevalence he developed a service in Tayside more than equal to the modern challenges of asthma and the smoking-related scourges of lung cancer and COPD. He helped(with Sir John Crofton) plan the future shape of respiratory services in Scotland and served as President of the Scottish Thoracic Society. He helped guide and train a new generation of thoracic physicians. His many qualities included integrity, wisdom, sound clinical judgement, industry,decency and loyalty with an easily-accessed sense of humour.
He retired in 1985, and spent more time with his family and his interests which included gardening and travelling (including caravanning).He died suddenly on 30th October 2010, unexpectedly whilst recovering during prolonged recuperation after a resection of colon cancer. He is survived by his second wife Elizabeth, 3 children and 7 grandchildren to whom he was devoted.