Designatory Letters:
MB Punjab 1954, DPH Punjab 1957, DCMT Lond 1964, FRCP Edin 1983, FRCPS Glasg 1984, FRCP Lond 1985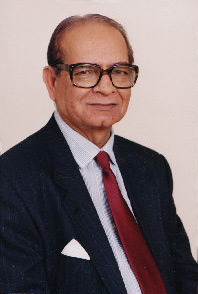 (Contributed by Mrs Anwar and her family)
Dr. Masud Anwar was born in India in 1931 and emigrated to Pakistan during the Partition as a young boy with his family. He qualified from King Edward Medical College, Lahore with an MBBS and a Diploma in Public Health (with honours). In 1959, he married Farrukh Niaz, daughter of Dr. Niaz-ud-din who was Dean of the Hygiene Institute and Preventive Medicine in Lahore. After marriage, Dr Anwar came to England in 1963, obtaining the Diploma in Tropical Medicine from London. His first jobs were in Falkirk Royal Infirmary, Hartwood Hospital and also Greenock, in Scotland.
After passing the MRCP, he obtained a Consultant Physician's job in 1975 at the General Hospital, now University Hospital, of Hartlepool. He oversaw the care and treatment of elderly patients in the Department of Geriatric and General Medicine and founded the successful Day Hospital Unit. In addition to obtaining FRCP in Edinburgh and Glasgow, Dr. Anwar served stints as the Chairman of the British Medical Association and Pakistan Medical Society for the North East. He had many papers published on different aspect of Care of the Elderly. One of his greatest interests was in non-invasive vascular diagnostic testing.
He was popular, hard working and sociable. In 1981, he took part in the Boxing Day Dip raising the most amount of sponsorship. He showed interest in acupuncture, of which he was a registered practitioner and was also a keen gardener. He was always full of life and did a lot for the community. After retiring from the NHS in 1996, he worked for Atos Medical Healthcare in Thornaby. Dr. Masud Anwar and Farrukh had three children, Professor Tahir Masud, Dr Saira Reynolds and Ms Saima Masud, a barrister. He was very much devoted to his family and four grandchildren. His warmth, generosity, down- to- earth character and fabulous sense of humour will always be remembered. Dr. Anwar passed away on the 9th March 2010 after a short battle with cancer and his funeral was held in London on March 11th.