Specialty:
General Practice/Primary Care
Designatory Letters:
MB S'pore 1956, MAMM 1977, FCFPS 1978, FAFP (Mal) 1979, FRACGP 1982, FRCGP 1994, FHKCFP 1996,FRCP Edin 1996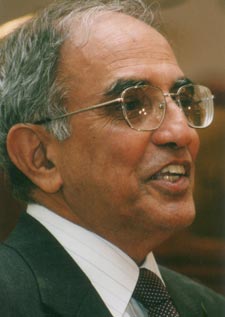 (Information kindly supplied by his family)
The recent passing of Dr Rajakumar, a distinguished General Practitioner, academic and friend to countless patients and professional colleagues, will remind many of his outstanding contributions to medicine, and in particular primary care, in Malaysia.
He qualified from Singapore and then devoted his professional life to raising the standards of care in general practice, through medical education, audit and research. Honours were showered upon him – Fellowship of the Academy of Sciences of Malaysia, Fellowship of the Academy of Medicine, the Academy of Family Physicians, Malaysia, the Royal Australian College of General Practitioners, The College of Family Physicians of Singapore, the Hong Kong College of Family Physicians, the Royal College of General Practitioners, Great Britain, and last but certainly not least, the Royal College of Physicians of Edinburgh.
Amongst the other honours he received must be mentioned the Fellowship of the Malaysian Scientific Association (19778), Honorary Professor at the Capital Institute of Medicine, Beijing, China (1989), Award of Honour, Chinese Medical Association (2003), International Fellowship, COTTISA, Thailand (2004).
He was an honorary adviser to Tung Shin Charity Hospital, President of the Malaysia – China Friendship Society, advisor to the Chinese Ministry of Health on the development of Primary care, an honorary consultant to the University Hospital, University of Malaysia and adjunct professor, National University of Malaysia as well as chairing the Malaysian Medical Association, Malaysian Scientific Association, many committees and boards concerned with primary care. Perhaps he would say that his greatest honour was being elected Foundation Chairman of the Medical Association of South East Asian Nations in 1980
His work and outstanding reputation took him as a lecturer, examiner or orator to China, Nepal, the USA, and every major city in SW Pacific.