Designatory Letters:
MB Edin 1952, MRCP Edin 1955, FRCP Edin 1966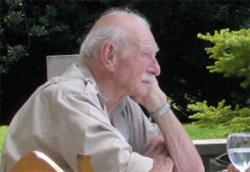 (Contributed by Aline Russell)
Dr John Laidlaw, neurologist, epileptologist and electroencephalographer died peacefully at the age of 89 on June 27, 2009.
Born near Newtown St Boswells, John studied medicine in Edinburgh, and neurology at the Hammersmith Hospital. He spent 5 years at the MRC EEG Unit at the Western General Hospital in Edinburgh, before becoming Senior Physician to the NHS treatment unit at the Chalfont Centre for Epilepsy in 1966. There he began its transformation from an epilepsy colony into the internationally acclaimed epilepsy assessment centre it is today. In 1979 he successfully undertook a similar venture at the Epilepsy Centre at Quarriers' Homes near Glasgow and also established an epilepsy and EEG service for Central Scotland.
He was a significant contributor to the EEG literature of the 1950-1970s, with important contributions on hepatic encephalopathy and the effects of sedative drugs. His seminal work on catamenial epilepsy published in the Lancet in 1956 continues to be referred to in contemporary studies. His book co-authored with JB Stanton 'The EEG in clinical practice' in 1966, was an important guide for clinicians. He was one of the first clinicians to define epileptology as a subspecialty and to recognise the need for a multidisciplinary approach to the care of people with epilepsy. 'A Textbook of Epilepsy' edited with Alan Richens became the international reference text for over two decades.
Following retirement at the age of 69, John Laidlaw returned to his love of abstract painting holding his first exhibition in Peebles at the age of 87.
He is survived by four children, seven grandchildren and seven great- grandchildren (his descendants) and his wife Mary.