Designatory Letters:
MB Edin 1951, MRCP Edin 1960, FRCPsych 1958, FRCP Edin 1970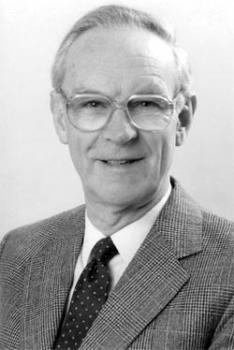 (Dr Linda J Watt FRC Psych)
Kenneth was born in West Yorkshire, the fourth child of Ida and John Binns. He studied Medicine at Edinburgh University graduating in July 1951, following which he was awarded a Fulbright Scholarship to work in Pennsylvania, USA.
On his return he completed his National Service attached to the 11th Hussars in Malaya as the Regimental Medical Officer ('52-'54).
Kenneth was inspired by Sir D. K.Henderson to undertake training in Psychiatry at the Royal Edinburgh Hospital. During this he spent a short spell working for the famous Physician Dr A.W. D.Leisman in Sheffield.
He had a keen academic mind and in addition to gaining the DPM in '58 he gained his M.R.C.P. (Edinburgh) in 1960 and both colleges awarded him fellowships in 1970. He was involved in research through his career. He and his consultant colleagues published a review of 100 Patients remanded to the Hospital from the courts, an important contribution to Scotland's Forensic literature.
He was a founding member of the Royal College of Psychiatrists and maintained a keen interest in college matters holding several key positions ; Member of the Scottish Division's executive committee; Convener of the approvals panel for N/W England; College Examiner and Exam organiser; Treasurer of the Retired Psychiatrists section of the Scottish Division
Kenneth was appointed as a Consultant Psychiatrist at Leverndale Hospital in 1964.He had to assume the role of Physician Superintendent in April '69 following the sudden and unexpected death of Dr Richard Parks. He held this post for some 23 years until his retirement in April 1992. He was recognised for his outstanding leadership & management skills at both local and national level. He co-authored the book on 'Incapax' published in the late eighties which gave the Scottish Executives definitive guidance on managing the 'incapable patient's affairs'.
As the Physician Superintendent he lead the development of what are now recognised as modern community based mental health services and he oversaw the up-grading of older Victorian buildings and their eventual replacement with modern admission units.
He paid particular attention to the social life of the hospital and in this he led by example attending all social events in the hospital from the annual 'Burns Supper' to every wards' Christmas party.
After retirement Kenneth was able to devote time to his much loved family, wife Sylvia, son Ian, daughter Suzanne and grandchildren Sophie & James. He loved to travel and despite not being a native Scot he was an excellent proponent of Scottish Country Dancing and Curling, both of which kept him very fit until he was struck down by cancer of the head of Pancreas. He bore the difficulties and pain of that diagnosis thro his last few months with fortitude and good humour.
He was a man of great skill and intellect who was a warm and caring human being whose legacy is a vibrant and effective community mental health service across South Glasgow with modern inpatient services at Leverndale Hospital