Designatory Letters:
MB Camb 1937, MD Camb 1947, MRCP Lond 1939, FRCP Lond 1947, FRCP Edin 1975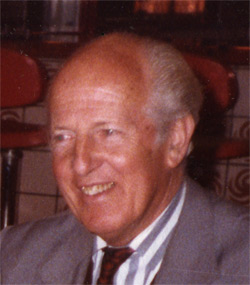 [Contributed by Drs. Brian Harrison and John Forbes]
Dr John Fisher Stokes MA, MB, BChir (1937), MDCantab (1947), MRCP (1939), FRCP (1947), FRCP Edin (1975)
Born 19th September 1912 (son of Dr Kenneth Stokes) and died 11th May 2010, after a short illness.
Widower of Dr Joan Stokes, FRCP, FRCPath who died 28th January 2010. John and Joan had been married for 69 years and were the first married couple to both be elected FRCP.
Father to Jenny and Adrian, grandfather to Ben, Nicola, Timothy, Joanna (Dr Joanna Allen MRCP) and Katherine; great-grandfather to Ella, Otto and Henry.
He was educated at Haileybury and Gonville and Caius College, Cambridge. He qualified from University College Hospital in 1937 where he was House Physician and House Surgeon from 1937 - 1938, RMO from 1939-1940, Medical Registrar from 1941–1942 and Consultant Physician 1946-1977. He also spent many years as a Trustee of Leeds Castle.
His appearance was distinguished. Always beautifully groomed and suited and often with a slightly raffish touch, he wore an emblematic bow tie. On being introduced he would remember all names, and almost immediately the first name of every student.
He was a caring physician, a great diagnostician and a very effective teacher who packed the lecture theatre for his monthly clinico-pathological conference, but it was at the bedside that he excelled. He would listen to the history given by the student or young doctor with the utmost attention. He then questioned the patient himself, often eliciting new and important information or he would re-cast the narrative in a way which would alter the significance of the essential features of the account. This was a competitive sport and we all struggled to prevent this revision taking place and on the whole we all failed. He would then conduct a meticulous physical examination. His examination of the abdomen was always rounded off by a search for cervical, post clavicular, axillary and epitrochlear glands, then auscultation of the abdomen. Generations of young doctors, after observing how effective a methodology this was, found themselves in possession of a sensitive tool which would function in all clinical circumstances. The patients responded to the intensity of this scrutiny with trust and gratitude.
He was endowed with a formidable array of talents. He was a ball player of the highest standard; he reached the finals of the National Squash Championship in 1937, played international squash in 1938 and he loved real tennis. He played the piano brilliantly, to a standard which enabled him to perform publicly, giving a concert to a packed audience in the library at UCH with a university orchestra when he performed Mozart's Concerto No. 9 in E flat (K.271). He completed the Times crossword daily well into his nineties.
He had wide and close contacts in the theatrical and musical worlds. He and Joan built a country house near Henley (Ossicles: the land had previously been owned by a Mr Smallbones, a typical Stokesian pun) next door to their great friends, Alastair and Naomi Sim.
His Harley Street rooms were decorated by competent and attractive watercolours he had painted whilst in the RAMC in Burma where he served in World War II, retiring as Lt. Colonel and during which he was mentioned in dispatches.
He was a senior censor of the College and gave time and commitment to the MRCP examination. He was an effective administrator who limited his considerable efforts to that which was practical and possible. He was concerned to standardize the MRCP and was a main driver behind the introduction of MCQs into the examination.
He came second in the Presidential election. I spoke to him immediately after the vote when he showed not a trace of regret or disappointment and he mmediately threw his weight behind the newly elected President. In 1981 he was the Harveian Orator.
On retirement from the National Health Service he continued as an advisor actingas a consultant to the Indian and Sri Lankan medical services for the WHO, to Saudi Arabia for the College and to the Siriraj Hospital in Bangkok. As mentioned he also became a Trustee of Leeds Castle.
He and Joan would entertain the young doctors and their partners at their country house where conversation, food, drink and a thrashing at boules, or tennis, would fill the weekend in a highly enjoyable way.
At UCH he was regarded as being one of the exceptional doctors of his generation. His humanity, his desire to pass on his skills and knowledge to students and doctors in training and the commitment and devotion to the institutions he held in such high regard - the College and UCH - made him a unique member of an outstanding generation of doctors.
Joan, his wife of sixty-nine years, was an exceptional clinical microbiologist, a popular teacher and generations of young doctors at UCH will remember her willingness to help and give advice to the many visitors to the laboratory.