Specialty:
General Internal Medicine
Designatory Letters:
MB Edin1943, MD Edin 1951, MRCP Edin 1948, FRCP Edin 1956, FRCP Lond 1974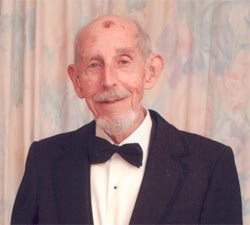 (Contributed by Morag and David Dorward)
Dr John Alexander Tulloch, formerly a consultant physician at Stracathro Hospital, Angus, has died after a long illness. Born and brought up in Forres, Dr Tulloch was dux of the academy there. He graduated from Edinburgh University in 1943, doing so six months early to join the war effort as a medical officer with a commando unit.
He served in Holland and Germany and was one of the Originals who fought their way from the beaches of Normandy into Germany. He was awarded the Military Cross in 1945 for what her modestly described as "rescuing some wounded from a forward position" at Brachterbeek.
After the war he turned to medical research and held a post at Cornell University, New York working with Irving Wright in early pioneering anticoagulation research before being appointed senior registrar in medicine at Edinburgh Royal Infirmary in 1952. There he worked for Dr Ray Gilchrist whom he much admired and whose influence remained with him throughout his subsequent working life.
He and his wife Sheena, who was a nurse, were married in 1953, two years before he became senior lecturer at University College in the West Indies, a position he held until he was appointed professor of medicine at Markerere University College, Uganda.
He returned to Scotland in 1966. As consultant physician at Stracathro he was instrumental in bringing undergraduate clinical teaching to the hospital where he taught medical students from the University of Dundee for many years. A meticulous and patient teacher, his ward rounds laid the foundations for many clinical careers.
He wrote over 100 medical papers and books, predominantly in the fields of diabetes and heart disease.
Dr Tulloch was an active athlete and represented his school and university in football (for which he was awarded a university blue) and tennis.
He and Sheena adopted Richard, their fifth child, as a deaf blind baby in 1975. He was a founder member and first chairman of Sense Scotland, a charity for children and adults who have communication support needs because of deaf blindness, sensory impairment, learning and physical disabilities. He maintained a lifelong interest in Sense Scotland.
Dr and Mrs Tulloch continued to live in Edzell after his retirement in 1986.
Dr Tulloch was a committed member of the Church of Scotland and served for over 40 years as an elder, latterly with Edzell and Lethnot Church.
Dr Tulloch is survived by his wife, three sons and two daughters.