Specialty:
Geriatirc Medicine/Care of the Elderly
Designatory Letters:
MB Edin 1952, DTM&H L'pool 1959, MRCP Edin 1961, FRCP Edin 1975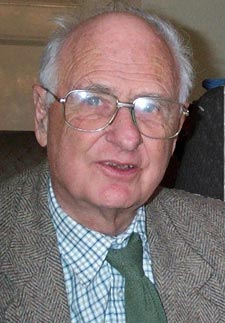 [Contributed by Elizabeth Aitken, Chris Turnbull and Gerry Playfer]
Dr. John Aitken died on the 3rd August 2010 at the age of 81 years. A devout and open minded Christian, he was a highly respected and influential Geriatrician (one of the first to practise pure geriatrics) whose long career firmly placed Clatterbridge hospital in Wirral as a centre for excellence in Geriatric Medicine.
He was born in Stranraer on 29th March 1929. He qualified at Edinburgh University in medicine in 1952. Six months after qualifying he became a medical missionary in Nyasaland (modern day Malawi) before returning five years later, to train in Medicine in Galashiels and Geriatric Medicine in Belfast. He was appointed a consultant physician in Geriatric Medicine at Clatterbridge Hospital in April 1965 where he remained until his retirement in 1989.
John was full of energy being an innovator. He developed the geriatric service on Wirral with eg shared psychogeriatric assessment beds and peripheral outpatient clinics scattered around the Wirral for easy reach of older people about which he published a seminal article.
He was Postgraduate Tutor at Clatterbridge Hospital and a founder Trustee of the Wirral Postgraduate Medical Centre. The library in the centre is named after him. He spent many years leading on the development of St John's Hospice in Wirral and developed an independent charitably run nursing home on the hospital site.
After retirement John continued to study theology obtaining a masters degree from Chester University. He was a church elder and lay preacher for many years. John's faith carried him through his terminal illness which restricted his life in the last few months of his life.
John gave a high priority to his family throughout his working life. John is survived by his wife Madge and his 3 children one of whom is a Consultant Geriatrician and 4 grandchildren.