Designatory Letters:
LRCP, LRCS (Glasg & Edin) 1950, DCH 1964, MRCP (Glasg), MRCP (Edin) 1967, FRCP(Glasg) 1978, FRCP (Edin) 1980, FRCP (Lond) 1989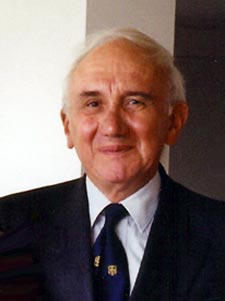 Having previously attended both the High School of Glasgow and Glasgow Academy, Harold Woolfson qualified in 1950 from Anderson College of Medicine and Glasgow University becoming a single-handed general practitioner in St Vincent's Street, Glasgow in 1953. His training had included 18 months of paediatrics and this interest stimulated him to take on the additional duties of Physician Superintendent for East Park Home for Infirm Children in 1961 and Medical Officer for the Barnardo's Home in 1963.
After 15 years as a Principal in general practice, he gained MRCP (both Edinburgh and Glasgow colleges) in 1967 which was a truly remarkable and singular achievement. A subsequent chance encounter with Dr Girdwood Fergusson, Consultant Dermatologist, precipitated an unexpected career change to dermatology in 1970, initially as registrar and then senior registrar in Stobhill General Hospital.
He was appointed consultant to the Woolwich group of hospitals in southeast London in 1974 from which he retired in 1989. Harold derived great enjoyment and professional satisfaction from his consultant post; he was particularly interested in and published on the dermatological manifestations of systemic disease. An excellent medical teacher, he encouraged junior doctors to take more than a simple interest in Dermatology and indeed one is now a Professor of Dermatology and past president of the British Association of Dermatologists.
He was most enthusiastic when teaching in the clinic or from the extensive slide collection amassed from his own clinical experience. Modest, sympathetic and with a quiet sense of humour, Harold was popular with patients and colleagues.
A passionate reader, his knowledge and curiosity went far beyond medicine. Married to Dr Sasha Morris (daughter of Professor Noah Morris) for 53 years, they travelled widely together in retirement and enjoyed a happy family life with two daughters, two sons (a nephrologist and a GP) and nine grandchildren.