Specialty:
General Internal Medicine
Designatory Letters:
MB Edin 1939, MRCP Edin 1941, FRCP Edin 1967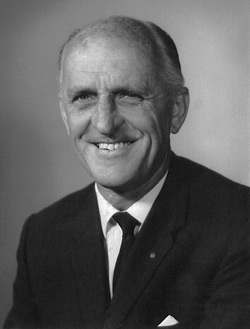 [Contributed by Mrs Wendy Hudson née Burton]
The death is recorded of Dr Dudley Walton Burton FRCP Edin on 8th May 2010 in Port Elizabeth, South Africa. He passed away peacefully after a brief period of ill health just 9 days short of his 95th birthday.
Dudley and his father, Dr Alfred William Burton, both studied medicine at Edinburgh and were both recipients of the Conan Doyle Prize – Dudley on 19 July 1939 and his father on 23 July 1909. He played cricket for his university and in 1938 received a citation from the Royal Humane Society for rescuing 3 persons who were in imminent danger of drowning in the Firth of Forth, East Bay, North Berwick.
Shortly after completing his studies, Dudley served in the Second World War, initially in the UK and then later in South Africa. He attained the rank of Major and was consultant to a large Italian Prisoner-of-War camp at Sonderwater on the outskirts of Pretoria. He finally settled in East London in the Eastern Cape, practising firstly as a general practitioner and then until his retirement as a specialist physician.
Dudley was acknowledged by his fellow colleagues and his patients as a skilled diagnostician. He was loved and admired by all who knew him for he was a man who was steadfast, compassionate and unassuming. He had a dignity and bearing about him that made it quite natural to treat him with respect. The practice of medicine was a calling for him, and he frequently embarked upon long and hazardous trips into the hinterland of the Eastern Cape and Transkei to see patients on farms, in mission hospitals and in small hamlets. These trips were undertaken at night even after a long day at the hospital and in his surgery.
He served for many years on the board of the Frere Hospital, East London and also worked pro Deo at the Woodbrook Chest Hospital, where patients benefitted from his special interest and expertise in tuberculosis.
Dudley was a devoted family man – his marriage of 56 years to his childhood sweetheart, Rita, was an example to all and his two daughters, Beverley and Wendy, speak of a father whose love knew no bounds, and whose counsel was always wise and without criticism. He was a man with a deep and unswerving faith in his God.
Always keeping a great balance in his life, he made time for gardening, played a fine game of golf with his friends, and could often be found with a fishing rod beside a beautiful estuary or along the seashore. The size of the catch did however seem to grow in legend as the years went by! His love for young people was manifest in his work for Rotary International on the student exchange programme and in the interest he took in the lives of his 4 grandchildren – they have all benefitted from the example of a man whose ethics and high standards never wavered.
Scotland always held a special place in his heart, and he loved to relate stories of his student days. The family still treasure his copies of the "Illustrations of Regional Anatomy" by Dr E B Jamieson, whom he assisted with the dissections for the illustrations. He had great respect for the tutorship of Sir Stanley Davidson. Dudley made many trips back to his alma mater, and also to Hammersmith Hospital, constantly searching for the latest teachings that would benefit his patients.
We mourn the passing of one of life's dedicated doctors and a true gentleman.