Designatory Letters:
MB Edin 1954, MD Edin 1980, FRCP Edin 1988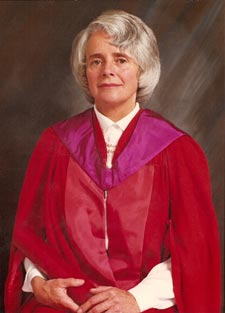 (Contributed by C.P.L. and S.D.W)
A native of Edinburgh, she was educated at George Watson's Ladies College where her distinction was early recognised when she was chosen not only for academic excellence but for her resources of mind and personality to be Head Girl.
At Edinburgh University where she studied Medicine, she won The Mackenzie bursary for Anatomy, the Royal Victoria Trust Gold Medal for Tuberculosis,and Dorothy Gilfillan Prize for most distinguished woman graduate of the year-1954. She had many other interests including Rowing where she won 3 Blues.
She married Ian, who became a Pathologist, whom she had met as a student, in 1955. It was a lasting friendship and a loving companionship and lasted for 54 years. She returned to Medical work after the birth of their three children. She had various appointments and was awarded the FPA certificate.
In 1975 she was appointed Clinical Research Fellow in the Edinburgh Stroke Rehabilitation Study.From1978 t0 1981 she was Registrar in Geriatric Medicine at the Royal Victoria Hospital and later was appointed Associate Specialist in that unit.
She was joint winner of the Jessie McGregor prize awarded by the Royal College of Physicians of Edinburgh 1979.
In 1980 her thesis "Discriminative Sensation after a Stroke in the Elderly" was accepted for her M.D. of Edinburgh University. She was elected a Fellow of the R.C.P.E. in 1988 and she remained at the Royal Victoria until her retirement.
Dorothy had a much broader side and as an accomplished pianist she led a trio of her children on flute,violin and cello. She was interested in theatre, ballet, and she and Ian enjoyed sailing their yacht "Krumpet" and she obtained a navigational qualification.
She will be missed for her lovely smile, warmth and enthusiasm. A light has gone out but memories remain as bright as ever for those who knew her.She is survived by her husband Ian, her children, grandchildren and her sister.
She earned the highest accolade that doctors give - A good friend, a good colleague and a good doctor.