Specialty:
Paediatrics/Community Health
Designatory Letters:
MB Dhaka 1977, FCPS Ban1988, MRCP 1995, MRCPCH 2000, FRCP 2001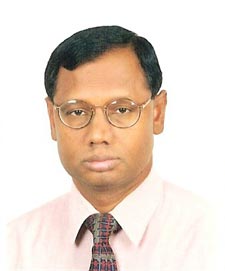 (Contributed by his family)
Dr Devabrata Roy passed away on December 6th, 2007 as a result of gastric carcinoma, leaving behind his wife Dr Shipra Das, a medical doctor, Dibangshu Roy, a first year B.Sc. student and Shitangshu Roy a grade 11 student.
Dr Roy was born in Bangladesh. He graduated from Sir Salimullah Medical College, Dhaka, Bangladesh and after internship training, enrolled in the FCPS (Fellowship of College of Physicians and Surgeons in Bangladesh) programme to train in Paediatrics. After completion of this training he moved to Riyadh, Saudi Arabia to work in a newly constructed Paediatric hospital. He started his active and varied paediatric career in the 100 bed Suleimania Children's affiliated with King Saud University, Riyadh, and was given the responsibility of starting the Paediatric Intensive Care Unit of this hospital, where he was the consultant in charge for about 10 years before choosing to work in general paediatric medicine for some diversification.
He was dedicated to education and trained an innumerable number of physicians in the intensive care unit and also in other disciplines who were preparing for the higher degrees in paediatrics including DCH, MRCP and Arab and Saudi Board of paediatrics. He always found time to teach when there was an interesting patient anywhere in the hospital. and was always available to help his colleagues with IV lines and difficult procedures making him an highly regarded physician, a person of the utmost integrity, loved and respected by all his colleagues, patients and their relatives.
Dr Roy and his family moved to Canada in 2005, mostly to meet the need of the children's education. After settling the family in Halifax, Canada he went back to Saudi Arabia to continue work as a consultant paediatrician in King Fahad Medical City. This was a state of art medical center and Suleimania Children's hospital was now it's paediatric department. Dr Roy again played a vital role in establishing its Paediatric Intensive Care Unit.
He moved permanently to Nova Scotia, Canada in the spring of 2006 and joined Colchester and East Hunts Health Authority to work as a consultant paediatrician, the post he was holding until his death. Here too he was an admired role model as a conscientious physician, a kind and hard working person who would easily and smilingly go an extra mile to help a colleague or a patient. He will be sorely missed by all who knew him.