Specialty:
General Practice/Primary Care
Designatory Letters:
MB NZ 1949, MRCP Edin 1954, FRCP Edin 1982, FNZCGP 1992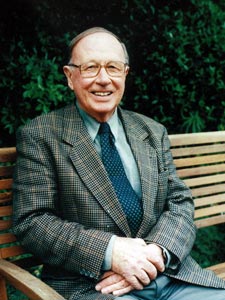 (Contributed by Dr Robert Bester)
David Pottinger was born in India, educated in New Zealand (Invercargill and Oamaru), and graduated from the Otago University Medical School followed by two years at Southland Hospital, Invercargill.
He attended postgraduate courses in London in 1952 and Edinburgh in 1953, and returned to Invercargill in 1954, where he joined his father in practice, as well as being appointed Visiting Anaesthetist to Southland Hospital. In 1961 he was also appointed Assistant Physician at Southland Hospital. Following his father's death in 1962 he continued the practice on his own.
In 1981 he was appointed to the Panel of Examiners for the RNZCGP and was honoured with a silver medal in recognition of his contribution in 1999. Obstetric care was an important part of his practice. Over 50 years he delivered three generations of women. He retired in August 2002.
Flying was a lifelong passion. He held a Commercial Pilot's License and was appointed Designated Medical Examiner by the Civil Aviation Authority in 1971. Pilots valued his personal insight into flying. He tutored his daughter and a grandson to fly.
He was a dedicated Physician and friend to his patients, a thoughtful and supportive colleague and employer, and a patient and skilled teacher. He had a sense of humour and humanity that infiltrated every aspect of his work, through which he touched a huge number of people. He was devoted to his family, and received great support from his wife, Pamela. He is survived by Pamela, and his children, Bill and Anne, and his five grandchildren.
He loved the quote from W. B. Yeats:
Think where man's glory most begins and ends, and say my glory was I had such friends