Specialty:
General Internal Medicine
Designatory Letters:
BA Camb. 1941, MB Edin. 1944, MRCP Edin. 1948, MD Edin. 1953, FRCP Edin. 1956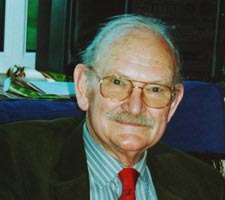 (Contributed by Dr Jim Cox ,MD , FRCP Edin Son-in-Law)
Charles Rolland was born in Bolton, Lancashire on 17th December 1920.
He and his younger brother Graham were educated at Loretto School in Edinburgh where he excelled both academically and as a sportsman. In due course he was appointed as a governor of the school.
He went on to Cambridge where he played rugby for the University, was president of the University Mountaineering Club, and still found time to obtain first class honours.
Sadly his brother Graham was killed in action in the RAF at the age of 18. Their father William also died before the Second World War was over, leaving Charles and his mother behind.
Charles, who regarded himself as a Scot not a Lancastrian, returned to Edinburgh for his clinical medical training and qualified as a doctor in 1944. He was soon called up to join the Royal Army Medical Corps and, as an accomplished athlete with a love of climbing, volunteered to join the commandos. At the same time, a less adventurous friend of his, Jimmy Scott, volunteered to go to India. Not unusually, military wires got crossed and Jimmy was sent to train as a reluctant commando while Charles set off for India with the Royal West African Frontier Force.
With typical determination, Charles pursued a beautiful Cambridge nurse, Venetia Payne, and finally persuaded her to marry him. They were married in 1945, two weeks before Charles sailed to India. They were not to meet again for two years. Charles and Venetia kept their letters from this time and, in his retirement, as a real labour of love, Charles typed them out (carefully expurgated, of course). As well as providing a fascinating description of life in wartime India and England, these are love letters. It is no surprise that Charles and Venetia went on to enjoy 63 years of devotion and happiness.
The war in Europe ended while he was on his way to India but the army was still preparing to fight the Japanese. Charles persuaded his troops that he had supernatural powers by secretly extracting the sting from a scorpion then holding the creature in his hand without being stung.
Returning to civilian life in Edinburgh, Charles continued his postgraduate studies. He was highly commended for his MD (Doctor of Medicine) thesis on diabetes.
Fiona was born in Edinburgh in 1948 (thankfully for me) and Andrew in 1951.
Charles was first appointed as a consultant physician in Edinburgh in 1954, moving to Carlisle in 1956. In this post-war period there was a glut of doctors who left the services, completed their training, then looked for jobs. Some, who would in other circumstances have been appointed to top jobs in Teaching Hospitals and Universities, chose to roll up their sleeves and devote themselves to clinical practice in District Hospitals. Carlisle was extremely fortunate in attracting a group of exceptionally talented consultants of the calibre of Tommy Studdert, Bruce MacLean, Josephine Ewbank and Geoffrey Scott-Harden who then attracted other high calibre consultants to join them. Cumbrian patients were blessed with the best of medical care and Charles was one of the leaders.
When he came here, there were no paediatricians or elderly care consultants. The physicians provided in-patient and out-patient care for people of all ages here and in West Cumbria. Charles developed the geriatrics service leading, in 1970, to the appointment of a consultant in care of the elderly, Peter Chin.
He was the first doctor to be responsible for the Intensive Care Unit at the Cumberland Infirmary and the first specialist in diabetes and endocrinology. 2,000 patients attended his diabetic clinic. Many of them will remember his skill and professionalism, particularly at challenging times such as during pregnancy and childbirth.
He took on more than his share of hospital management. As well as chairing the Medical Staff Committee and serving on the Special Area Committee he was on the Project Team for Penrith New Hospital. He was a popular teacher of students, doctors and nurses and was an examiner for Newcastle University and the Royal College of Physicians of Edinburgh. Many of his former junior colleagues remember him with affection and keep in touch.
So many professional achievements. But what of the man?
He was determined and principled and usually got his own way. His determination to succeed manifested itself in many ways – for example: not being put off by Venetia playing 'hard to get', achieving a first at Cambridge and playing first team rugby for Cambridge and Edinburgh Universities. For his patients he was determined that they should receive the very highest standard of medical and nursing care – and they did.
He excelled as a rock climber – discovering new routes, being President of Cambridge University Mountaineering Club and a member of the Fell and Rock Climbing Club. He rescued Lord Hunt, leader of the successful 1953 Everest expedition, when he fell and broke his leg in Wales.
He had an extraordinary memory. It is not exaggerating to say that for most of his life he remembered everything. He could describe in detail people he had met, places he had been, conversations he had held, even sandwiches he had made decades ago. He was the first person to climb Bilberry Buttress, now a well established route on Raven Crag in Langdale. When, more than 60 years later, Fiona did the same climb he asked her if she found 'the little hand hold up to the right just above your head'.
He was fascinated by facts and reality. He loved to discuss current affairs and challenge opinion and was not much interested in fiction. Most of his reading was history, biography or about information (which he, of course, remembered). Latterly he read the Koran – because he thought it would help him to understand the modern world. His concession to the Arts was to Venetia's painting. He could not have been more supportive or encouraging. He made frames for her pictures. It is usual to frame a picture after it is painted. Charles' approach was to make the frames first and encourage Venetia to fill them. It worked. Only last Friday, less than 48 hours before he died, he sat on his stick gazing at one of her pictures at the Lakes Artists exhibition in Grasmere. Whether he was admiring the picture, the frame or the red spot that marked it as 'sold', we will never know.
Although, like his granddaughter Tamsin, he couldn't resist shopping, he was a countryman and a sportsman. He loved his gardens at the Dovecote in Scotby and Knocker House in Caldbeck. They were much admired. He was also a keen fisherman. As a young man he spent hours with Millican Dalton, the so-called 'Professor of Adventure' who lived in a cave in Borrowdale.
For years the family holidayed in the Isle of Barra in the Outer Hebrides. He loved Barra and was happiest helping friends there, digging lazy beds for potatoes, fishing, boating or watching the wildlife.
He was a devoted family man. He adored Venetia, Fiona and Andrew. His widowed mother lived next door to them in Scotby and moved with them to Caldbeck where they cared for her beautifully. He was a wonderful grandfather (known as Pop-Pop) to Tamsin and Charlie.
Charles was a giver. He selflessly applied his exceptional brain and talents as a physician and leader for the benefit of others.
He always made it clear how much loved his family. He knew how much we loved him. He gave the world 87 good years, for which we give thanks.