Designatory Letters:
MB ChB Glasgow 1950, MRCPE 1955, Fellowship 1965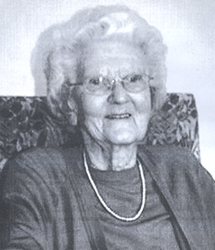 (Based on an obituary published in The Herald 21 Sept. 2006)
Betty Cowan was born and brought up on Ingleston Farm, New Abbey near Dumfries, Scotland. Having lost their parents she and her brother worked the farm until, after the war, in 1945, she entered Glasgow Medical School, one of a class of 250, graduating in 1950. It was while a student that she had a deep religious experience and committed herself to lifetime service as a medical missionary with the Church of Scotland.
Before going to the Punjab, however, she worked for seven years in Dumfries Infirmary, gaining her Membership and invaluable experience. She worked in the Christian Medical College and Hospital, Ludhiana. In 45 years there she became Professor of medicine, Principal of the College and had many papers on community health published in international journals.
Even after her retirement at 70 she continued to pay annual visits to Ludhiana until she was 85, often surprising taxi drivers with her fluent Hindi and Punjabi. She never married but is remembered with affection and respect by many ex-students who used to be amazed at her knowledge of them, their families and their careers.