Specialty:
Pathology/Paediatrics and Community Child Health
Designatory Letters:
Mb ChN Edin 1935, MRCPE 1939, MD Edin 1941, FRCP Edin 1943, FRCPath 1963, FRCS&PGlas 1966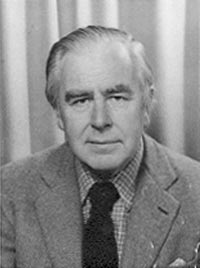 (Contributed by Angus Gibson)
Alistair (Derrie) MacDonald was born in Shanghai in 1911 where his father was Deputy Commissioner in the Imperial Chinese Maritime Customs. His early childhood was spent in Inverness-shire in the care of aunts and uncles, forming the core of his life-long interest in the Scottish Highlands. He was educated at Cargilfield School and Fettes College and graduated in medicine at Edinburgh University in 1935. After postgraduate study in clinical medicine and pathology – unsure of which specialty he wished to pursue - he graduated MD with Gold Medal in Edinburgh in 1941 for a thesis on multiple myeloma.
He served in the RAMC from 1941-1945 and was posted first to Orkney then India where he was in charge of a mobile laboratory attached to the British 14th Army during the Burmese campaign (1944/45) in its advance from Assam to Rangoon. After the war he returned to Edinburgh as Lecturer in the University Department of Pathology under Professor Murray Drennan. In 1947 he studied in the USA as a Rockefeller Fellow. He was appointed Consultant Pathologist at the Royal Hospital for Sick Children, Glasgow and Gardiner Senior Lecturer in the Diseases of Infancy and Childhood at the University in 1949. The post initially carried responsibility for all laboratory services at Yorkhill but with the increasing demand for specialist laboratory medicine in the NHS in the 1960s, Dr MacDonald helped to establish independent departments of biochemistry, haematology and microbiology and expand his own discipline of histopathology. These changes and the separate development of the University Department of Medical Genetics on the Yorkhill campus were timely additions to the laboratory support available to the Children's Hospital and the newly opened Queen Mother's Hospital. Without permanent junior medical staff, he welcomed and encouraged a succession of postgraduate trainees in pathology seconded from other Glasgow teaching hospitals to gain experience in the paediatric field. He was a Founder Member and keen supporter of the Paediatric Pathology Society.
He retired in 1976 having recently moved to Strathblane with his wife Marjorie (Nisbet). They were able to enjoy travel abroad for many years, including a return to India and China, until Marjorie's health deteriorated and she required cardiac surgery. She died in 2000. Derrie acknowledged that he was very fortunate to live out his remaining years at home with the devoted help of his daughter Anne and a team of carers. He died on 25th March 2007 and is survived by a son and a daughter.