Specialty:
General Practice/Primary Care
Designatory Letters:
MB Dhaka 1958, OBE 1976, FRSM 1981, FCPS Bang 1992, MRCGP 1993, FRCP Edin 1994, FRCGP 1998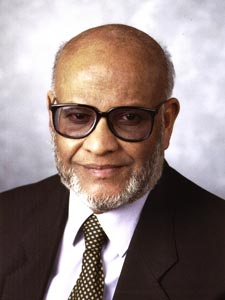 (Contributed by his son, Reza Sayeed)
Akram Sayeed, who died on 18 January 2008 aged 72, was a highly respected Leicester general practitioner and a pioneering and influential figure in the medical communities of both the UK and Bangladesh. During his 40 years of general practice, he also worked tirelessly for improved community relations in the UK.
Akram was born and brought up in what is now Bangladesh. After graduating from the University of Dhaka in 1958, he undertook further medical training in the USA, before settling in the UK in 1961. He entered general practice in 1963, thus becoming one of the first Asian GPs in Leicester. In 1964, he established his own general practice from scratch, which he developed into a successful three-doctor practice.
From 1968 to 1977, Akram served as one of the twelve statutory members of the Community Relations Commission, and in 1976 he received an OBE for his long and distinguished services to community relations. From 1983 to 1988, he served as an advisor to the Home Secretary on community and race relations. Akram was also a founding member of the Overseas Doctors' Association (now known as the British International Doctors' Association), and served as its national chairman from 1993 to 1996. He also helped to establish the Standing Conference of Asian Organisations in 1970.
Akram maintained strong professional links with his country of birth, and was appointed by the Bangladeshi government as an honorary advisor to the Bangladeshi Ministry of Health and Family Welfare. From 1980 onwards, he was instrumental in helping medical colleges in Bangladesh to secure recognition by the General Medical Council. In honour of this work in promoting medical education and training in Bangladesh, he was awarded honorary fellowships of the Bangladesh College of General Practitioners and the Bangladesh College of Physicians and Surgeons. Akram also helped to raise large sums of money to help victims of natural disasters in Bangladesh. After the cyclone that affected that country in 1991, he helped to establish a major community self-help project in the Pekua district of Cox's Bazar, Bangladesh, which was funded by donations from the people of Leicester.
He was president of the Leicester Division of the British Medical Association from 1994 to 1995, and president of the Leicester Medical Society from 2001 to 2002. The British Medical Association honoured him with fellowship in 1995. He served on the General Optical Council from 1994 to 1998, and in 1999 he was elected to the General Medical Council, on which he served until 2003.
Akram retired from general practice in 2003. In 2005, the Eastern Leicester Primary Care Trust decided to rename his former practice premises as the Sayeed Medical Centre in honour of his long and dedicated contribution to general practice. During his retirement, Akram sadly suffered the loss of his eyesight, but despite this he took up writing and published his memoir (In the Shadow of My Taqdir [2006]), three volumes of essays (Letters from Leicester, Volumes 1–3 [2004–2007]) and two Bengali novels (Shesher Adhaya [2005]; Rahu Grash [2006]).
Akram leaves a wife, Hosneara, three children and six grandchildren.