Designatory Letters:
MB ChB (NUI) 1953, BSc (NUI) 1955, MRCP 1957 Edin, FRCP Edin 1970, MD (NUI) 1972, FACP 1976, DSc (h.c.) (UWI) 2013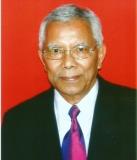 Dr Theodosius Ming Whi Poon-King recently died on 30 June 2016, at the age of 88.
He was born on 4 January 1928 to Mr Reginald Poon-King and his wife Ena, in the village of Biche, Trinidad and Tobago. His parents were owners and operators of a grocery and a cocoa estate in the village. Dr Poon-King was educated at St Mary's College, Port of Spain, Trinidad and Tobago. He excelled in the Classics and won a Government Island Scholarship in 1946, leaving Trinidad for Ireland the following year.
Dr Poon-King studied medicine at the University College of Dublin and St Vincent's Hospital. After five storied years at medical school, he graduated with MB ChB in 1953. He then gained a B.Sc. Honours degree in Pathology and Physiology in 1955. That year he proceeded to the Royal Postgraduate Medical School, Hammersmith Hospital, London, as a House Physician, to further an interest in Endocrinology. From 1956 to 1957, he was a Resident House Physician at the Whittington Hospital, London, where he developed an expertise in the management of diabetes mellitus. He gained membership of the Royal College of Physicians of Edinburgh in 1957 and left the UK that same year. Dr Poon-King was elected FRCP Edin in 1970.
He secured a post as Medical Registrar at the University Hospital, Kingston, Jamaica from 1957 to 1958, where he furthered an already keen interest in cardiology. In 1958, he returned to Trinidad and Tobago and was posted as a Specialist Physician, at the then new San Fernando General Hospital, where he was to remain until his retirement in 1988. He re-organised the diabetic outpatient clinic and initiated a Cardiac Clinic in response to the large number of patients stricken with rheumatic fever and rheumatic heart disease.
Dr. Poon-King spent a year, 1962 to 1963, in Boston, Massachusetts, furthering his interest in cardiology. He was a Graduate Student in Cardiology at Harvard Medical School and a Research Assistant in the Arteriosclerosis Unit, Massachusetts General Hospital.
Upon his return to the San Fernando General Hospital, he embarked on research on rheumatic fever and the then emerging epidemic of post-streptococcal glomerulonephritis in the south of Trinidad. In collaboration with co-investigators from Northwestern University, Chicago, he established and led The Streptococcal Disease Unit at the San Fernando General Hospital in 1966. Additionally, he fostered longstanding collaborations with his local colleagues, as well as co-investigators from the Rockefeller University, New York, in this research interest.
After 30 years of continuous surveillance, treatment and preventative strategies by the Streptococcal Disease Unit, rheumatic fever and post-streptococcal glomerulonephritis were virtually eradicated in South Trinidad.
He served as Head of the Department of Medicine for much of his tenure as a Consultant Physician at the San Fernando General Hospital. He devoted his time to patient care, the training and mentoring of young doctors, as well as diverse research interests. He contributed to the medical literature on diabetes mellitus, scorpion sting myocarditis, coronary artery disease, rheumatic fever, post-streptococcal glomerulonephritis, paraquat poisoning and yellow fever.
After his retirement in 1988, from his post at San Fernando General Hospital, he continued surveillance of patients from the Streptococcal Disease Unit for many years. He conducted a quiet private practice and maintained a vibrant presence in the local medical fraternity, until he became ill in 2014. He held memberships and fellowships in several professional bodies and learned societies. His alma mater, the National University of Ireland conferred a Doctorate of Medicine on him in 1972. The University of the West Indies conferred on him a Honoris Causa Doctorate of Science in 2013. He also received numerous other honours and awards for his contributions to medicine and served as the Overseas Regional Advisor for the Caribbean for the Royal College of Physicians of Edinburgh for many years.
Dr Poon-King was a bibliophile. Whilst his interests were diverse, he cherished reading history, the history of medicine and biographies.
He was predeceased by his first wife, Sheila (nee Dieffenthaller), in 1973. He is survived by his wife of 41 years, Ingrid (nee Ammon), his six children and eight grandchildren.