Designatory Letters:
MB Manc 1952, DCH 1954, MRCP Edin 1962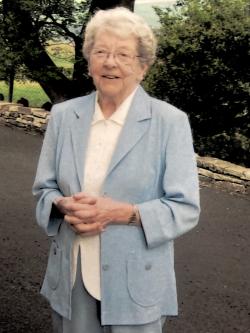 Joan Wright was a deeply respected cardiologist who devoted her career to caring for patients in Manchester and the surrounding area. One of the few women of her generation to reach a senior cardiology role, she helped influence how children with congenital heart defects were managed in North-West England, and was admired by colleagues and patients alike.
Medicine ran in Joan's family, and like both her parents and sister, she studied at the University of Manchester – one of just a handful of female students. After initial training in Salford and Manchester, she elected to specialise in Paediatric Cardiology: a bold decision, given that the discipline was only beginning to emerge in the UK at the time and training was essentially on-the-job. She eventually became a Consultant Cardiologist at the United Manchester Hospitals, working closely with Geoffrey Wade at the Manchester Royal Infirmary and St Mary's Hospital.
Despite having begun her career in an era when it was assumed that few female doctors would make it to the top – she once admitted that she had taken up cigarillo smoking in order to fit in with the male consultants – Joan failed to see why any of that should apply to her. She was respected by colleagues for her steely intellect, and developed a reputation for challenging the powers that be. Yet the people who worked closely with her, and the children she cared for, knew her as a thoughtful and committed clinician who would fight their corner no matter what. In the early 1980s, she set up a pioneering adolescent cardiology clinic at St Mary's Hospital, continuing her connection with teenagers she had first treated as newborns.
The most pragmatic and no-nonsense of people, Joan was also a devoted and generous friend. Indeed, she never did things by halves. She and her husband Cecil Mays (an anaesthetist who pre-deceased her) won awards in regional ice-dancing championships, learned Italian at night school, and spent many happy summers camping in Italy.
After retirement, Joan was active in the Rotary/Inner Wheel club in her adopted home of New Mills, Derbyshire, a stalwart behind the scenes at the town's Art Theatre, and volunteered at Styal women's prison with the National Association of Prison Visitors. All were roles she took on with the same unwavering commitment she devoted to medicine. Proudly independent to the last, she died peacefully near family in south Wales.
She is survived by her stepdaughter, Sue Dickson (a retired general practitioner), three grandchildren and three great-grandchildren.