Specialty:
Paediatrics/Community Child Health
Designatory Letters:
MB Camb 1951, DCH Lond 1954, MRCP Edin 1961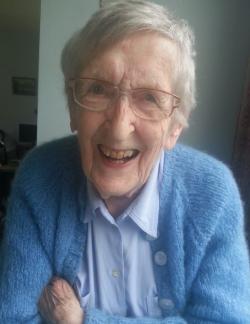 Isobel Hilary Grant ("Hilary") was born in Edinburgh, the third child of two general practitioners in Carlisle. After education at Red Gables School in Carlisle and Malvern Girls' College, she trained in medicine at Newnham College Cambridge (1945-8) and University College Hospital London (1948-51). She held House Officer posts in Doncaster, Manchester, Southampton and Elizabeth Garrett Anderson Hospital, London, then was a Registrar in Paediatrics in Manchester and King's College Hospital, London. Between 1962 and 1966 she worked at University College Hospital, Ibadan, Nigeria, first as a Senior Registrar and then Consultant in Paediatrics.
Returning from Nigeria, in 1966 Hilary was appointed Consultant Paediatrician in Teesside, one of three paediatricians covering a large area. Based mainly at Middlesbrough General Hospital, her remit included West Lane Hospital for Children with Infectious Diseases, also in Middlesbrough, and extended north of the river Tees to Stockton Children's Hospital and North Tees General Hospital, Stockton-on-Tees.
Hilary's workload was heavy, seeing 40-50 children per clinic. In spite of this, colleagues recall that she never complained, and describe her as humble, dedicated to her work, very determined, and a woman of principle who was adored by children and their families. Her clinical opinion was highly valued by less experienced colleagues. She always sought input from allied professionals; there would usually be at least one health visitor in her clinic, providing inside knowledge of the families. Hilary will be particularly remembered by parents of children with disabilities for helping to set up, and being responsible for, the Cleveland Unit, a child development centre at Middlesbrough General Hospital. This centre was unusual for its time in bringing a nursery school into the hospital. It was a truly multidisciplinary centre, which continues to bring great benefit to children.
Two major events affected Hilary's work. In 1967, the first E. coli gastroenteritis outbreak in the UK occurred in Teesside, killing 15 children and making national news. Children's services in Teesside were in the spotlight again in 1987 with the Cleveland child sexual abuse scandal: Hilary avoided the publicity and got on with the work, while maintaining good professional relationships with those involved.
The writer Diana McVeagh, Hilary's schoolfriend, recalls a dinner party in the 1970s when a guest commented that it was unusual for a woman to be a hospital consultant. "Do women have to be much better than men to get that job?" they asked. "Four times better" said Hilary, succinctly.
After retirement in 1991, Hilary travelled widely, including to Tibet, Myanmar and South America, often on tours to learn more about local culture. She studied German and Italian, volunteered as a guide at National Trust properties and enjoyed playing croquet with friends.
Hilary remained in very good health into her late eighties, polishing off cryptic crosswords that had defeated younger relatives, and politely but firmly declining assistance with organising her ninetieth birthday party. In 2017, after a fall resulting in hip fracture, early signs of dementia became more obvious, and she had to move to residential care in late 2018. She died of presumed COVID-19. She leaves six nephews and four nieces, one a doctor.