Designatory Letters:
MB Glasg 1946, MRCP Edin 1958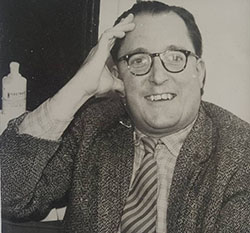 Clifton 'Tony' Lowther was born in Glasgow and studied medicine at Glasgow University. He qualified in 1946 and then undertook two years of National Service with the Royal Army Medical Corps based in Liverpool, returning to Glasgow to take up junior training posts in the brand-new NHS and to marry Jean Miller McDougall, whom he had met at the outbreak of war in 1939. He published papers in haematology, passed his Glasgow College Membership and then moved to Edinburgh to continue his training in cardiology under Richard W D Turner.
He carried out cardiology research at the Western General Infirmary in Edinburgh alongside Dr Arthur Kitchin, who became a lifelong friend and cardiologist. He was involved with the first successful mitral valvotomy in Scotland and also investigated various sympathetic ganglion blockers as possible treatments of hypertension.
The story goes that he met Professor James 'Jimmy' Williamson at a party and attracted professorial attention while conducting the community singing with a loaf of French bread. Jimmy was setting up a new department of geriatric medicine and needed a humane and progressive team of consultants to push forwards this new specialty. Tony very happily jumped ship.
Over the next 30 years or so, Tony developed services in the north of the city, surrounded by a team of likeminded and enthusiastic colleagues. Throughout his career he performed regular home visits to see patients in their own environments. He developed the Royal Victoria Hospital, an old tubercolosis hospital, into a specialist facility for the elderly. He set up day hospital services, worked with an extended multidisciplinary team, contributed to the expansion of psychogeriatrics as a specialty and was very aware of the risks of falls and frailty in the elderly (frailty is not a new concept!). He worked with The Bield Housing Association to help build suitable supported housing and long stay homes for the growing elderly population. He wrote and lectured on many subjects including 'blocked beds', isolation and loneliness, the role of health visitors in working with the elderly, death and dying, bereavement and end of life care. He was a stimulating teacher to undergraduates at Edinburgh University and helped many junior doctors through their membership examinations.  
On his retirement in 1989, he spent several years working for the benefits agency, assessing people with disabilities.Tony was a deep thinker, poet and philosopher. All human contacts were of ultimate importance to him and he never grew cynical or weary of being a physician. He regarded his calling as one of great privilege in the sense that he could come alongside people, sharing a little bit in their lives as he sought to help them. His advice to his daughter, as she set out on the medical road, was to maintain the balance of, on one hand, being a 'good clinical engine' and 'knowing your stuff' with, on the other hand, of having 'the common touch' and maintaining the ability and desire to communicate on an equal level with one's patients. Tony and Jean had a busy social life in Edinburgh, being involved with a huge number of social, literary, musical and artistic groups. Latterly, those that he was most involved with were the Royal Celtic Society, The Edinburgh Poetry Society and the Carlyle Society.
Jean died suddenly in 2007, whereupon, Tony expanded his culinary expertise from marmalade to soups and roast chickens. He continued to live in the family home they had bought together in 1964 until a fall in late 2014, along with increasingly severe dementia, forced a move into Murrayfield Care Home in Edinburgh. Here he spent his last years surrounded by the most caring and professional team his family could have wished for. He died after a short respiratory illness. He leaves a son and three daughters (one a doctor), six grandchildren (one grandson, Andrew, pre-deceased him). He was pre-deceased by his beloved brother, Glen, also a doctor and Glasgow Graduate, only 5 weeks before his own passing.