Designatory Letters:
MB Glasg 1952, MRCP Edin 1958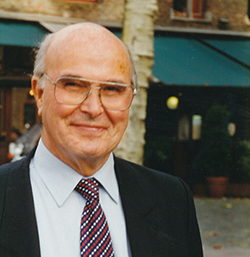 Donald Montgomery was born in Garrabost, Stornoway, in the Isle of Lewis, on 29th January 1930, but excepting the war years, lived his childhood and University years in Glasgow. Like all Hebrideans, he was very nostalgic about life in the Western Isles.
He obtained his MB ChB in 1952 from Glasgow University, and his MRCP Edin in 1958 whilst a Registrar in Falkirk. Between these dates he spent 18 months in Kenya in National Service, working in the hospital in Nairobi. He enjoyed his period there, almost an adventure, whilst not agreeing with the situation at that time.
Following Falkirk, Donald worked as a Registrar at Guy's Hospital, London, where he met Rosemary, a Nursing Sister, and his future wife. She died in 2017, and he looked after her unstintingly until her end.
From 1959–61 Donald worked as a Senior Registrar in UCH Ibadan, Nigeria. On returning to the UK he became a General Practitioner, settling in Folkestone from 1961 until retiring in 1995. During this period he also worked as a Hospital Practitioner in Rheumatology for SE Kent Health Authority and was a member of GSK Independent Ethics Committee. He obtained his FRCP Edin in 1982.
He died after a period of illness, with a mercifully brief conclusion.
He leaves behind two daughters, Johanna and Fiona, and their children.