Specialty:
General Internal Medicine
Designatory Letters:
MB Sheff 1957, MRCP Edin 1965 Trop Med, MSc Hull 1983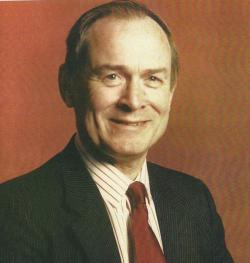 David Bradford commanded two Military Hospitals at the end of his career and retired in 1991 in the rank of Colonel, Late of the Royal Army Medical Corps (RAMC).
Born and brought up in a small mining town in South Wales, from school he secured a scholarship to study medicine at Sheffield, graduating MBChB in 1957. After House Officer posts in Sheffield he was called up for National Service and very soon applied for and was granted a Regular Commission in the RAMC.
As a trainee physician, specialist and senior specialist in medicine he served at Queen Alexandra's Military Hospital, Millbank, London, obtaining the Diploma of Tropical Medicine and Health, Waringfield Military Hospital, Co. Antrim, The Military Wing, Musgrave Park Hospital, Belfast, BMH Dhekelia, Cyprus, Cambridge Military Hospital, Aldershot and BMH Hong Kong, before being posted to Catterick Military Hospital as Consultant Physician in 1973. Then it was Hong Kong, Catterick and Cyprus until the two final appointments as Commanding Officer.
In retirement he returned to Hong Kong for 15 months as a civilian consultant physician then after further locum appointments in BAOR, Cyprus, Gibraltar and UK he finally retired from medical practice in 1996 and moved with his wife to New Zealand where they had family.
He had a very wide range of interests. He published and spoke on various alcohol-related topics in adults and children but also on moustache cups, pipes and tobacco antiques. In 1982 he attained, in part-time study, an MSc in Hospital Administration. An earlier experience in a Phantom jet fighter began a later-life interest in air sickness bags and his comprehensive collection and expertise earned him a place in the Guinness Book of Records.
A marvellous storyteller with a wicked sense of humour, he was exceptionally good company and, of an adventurous nature, he would have a go at anything and, very notably, challenging foods from various parts of the world. A generous host, their parties, often in fancy dress, were much enjoyed. A reformed tobacco smoker who survived for many years after heart surgery in 1977 and 1987 he was a very firm advocate for stopping, re-enforced by the exhibition of his sternotomy scars.
He will be remembered by RAMC contemporaries as an excellent clinician, a generous colleague and reliable friend.
He married twice. His first wife died in cardiac surgery. He is survived by his second wife, their two daughters and eight grandchildren.
Dr Willson Taylor, FRCP
May 2017