Specialty:
General Internal Medicine
Designatory Letters:
BSc Glasg 1947, MB Glasg 1950, MRCP Glasg 1962, MRCP Edin 1964 Renal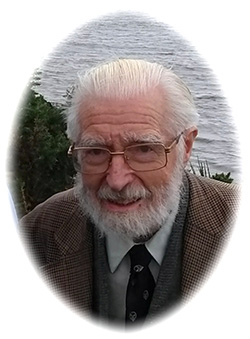 Alasdair Macdougall sadly and suddenly passed away on 24 August 2018 shortly after his 91st birthday, and the world lost one of the early pioneers in kidney medicine in Glasgow.
Alasdair was born in Stepps in 1927 to Alexander, who was a public health inspector, and Mary, who was what was then called a 'Visitor of Public Health'. He was educated at home by his mother until he was 6 years old, before his formal education at a primary school in Dennistoun and Whitehill Secondary School. He was awarded a bursary for Glasgow University, where he undertook an intercalated BSc in Physiology (for which he was awarded a first class honours in 1947), before graduating in medicine in 1950. He took up his first post as a House Physician at the Western Infirmary, Glasgow, with Sir John McNee, and was a House Surgeon with Sir Charles Illingworth. He then undertook National Service from 1951–53 in the Royal Navy, based in Londonderry, spending time at sea in frigates and destroyers. He returned to the Western Infirmary in 1954, obtaining a post as Medical Senior House Officer, and later Registrar, in the Clinical Chemotherapy Research Unit under Dr James Reid, where he became fascinated with the properties of aspirin. He moved to Stobhill Hospital in 1958, and in the 1960s his interest in and commitment to the study and treatment of kidney disease was firmly established. In 1967, he was made a Consultant Physician in the unit, still undertaking a lot of general medicine, but with an increasing focus on renal medicine. He set up a flourishing home dialysis programme at Stobhill, offering both home haemodialysis and peritoneal dialysis, a concept that remains the mainstay of renal replacement therapy today. Shortly after this, he became a Fellow of both the Edinburgh and Glasgow Royal Colleges of Medicine.
His obsession and belief in aspirin as a therapeutic agent continued (clearly vindicated now), but his main research contribution to renal medicine was in relation to clarifying the role of aluminium in dialysis encephalopathy in the late 1970s. He was a founder member of the European Dialysis and Transplant Association, now called the European Renal Association, and faithfully attended the annual conferences every year. He retired on his 65th birthday on 13 August 1992, and was therefore able to enjoy 26 years of life post retirement. He never lost interest in clinical medicine, and to keep up with all the latest developments subscribed to the Lancet right up until the time of his death.
He met his wife and lifelong companion, Mary (also a doctor), during his undergraduate studies at Glasgow University. They married in 1956, and had three children: Iain, Margaret and Catriona. Iain followed in his father's footsteps, and is now a Consultant Nephrologist at King's College Hospital in London.
The warmth and affection with which he was held was very evident at his funeral service, which was well attended by family, friends and ex-colleagues. He was a gentle and modest man, who was always understated, and had intelligence and insights that were not always immediately apparent. He was a lifelong and faithful member of the church, becoming an elder at Westerton Parish Church in 1959. He liked to help people, and did so largely through his active participation in the life and activities of his local church, and his support of many charities.
He is succeeded by his three children, six grandchildren, four step-grandchildren and two great-grandchildren who mourn his loss.