Specialty:
Intensive Care Medicine and Respiratory Medicine
Designatory Letters:
MB Birm 1944, MRCS, LRCP Birm 1944, MRCP Edin 1962 Resp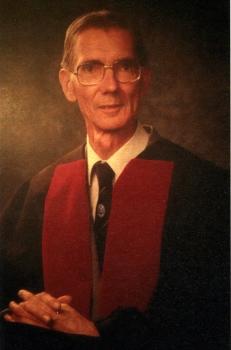 Douglas was educated at Worcester Royal Grammar School and graduated from Birmingham University in 1944. He obtained his MRCP Edin in 1962 while training as a chest physician in Leicestershire. Consultant posts for chest physicians were decreasing in the UK with the effective treatment of tuberculosis so he applied for jobs overseas. After interviews at Australia House London, he was appointed as the first chest physician for the Northern Territory of Australia. Based in Darwin he organised the first mass chest X-ray screening in the Northern Territory, including the remote aboriginal and mission settlements.
While studying in Scotland in the 1960s, Douglas first developed an interest in geriatric medicine and in 1967 was appointed regional specialist geriatrician in Bendigo, Victoria.  Later he worked at the Alfred Hospital in Melbourne and in the Warnambool region of western Victoria and retired from full-time practice in 1984. He continued part-time and locum work for a further 20 years, with the Melbourne University Professorial Unit at Royal Park and at the Austin Hospital.
His contributions to medicine included the development of long-term antibiotic treatments for tuberculosis, screening for tuberculosis in the remote parts of the Northern Territory of Australia, and the establishment of Day Hospital facilities and short-stay wards in geriatric medicine.
Married to Olive for 65 years, he remained at home independent until a few days before his death from cancer.
Professor Duncan Blake